PALEO CHERRY BARS
(GRAIN FREE, GLUTEN FREE, DAIRY FREE, PALEO)
Cherries are one of my favorite fruits and I absolutely love incorporating them into desserts!  These cherry bars are bursting with the sweetest flavors.  An almond flour shortbread crust is topped with a juicy cherry filling and then finished off with a crispy topping.  These bars have all the flavors of a traditional cherry pie but they're made into much more convenient bars.  They're fun for the summer but they can also be made with frozen cherries for a year round treat!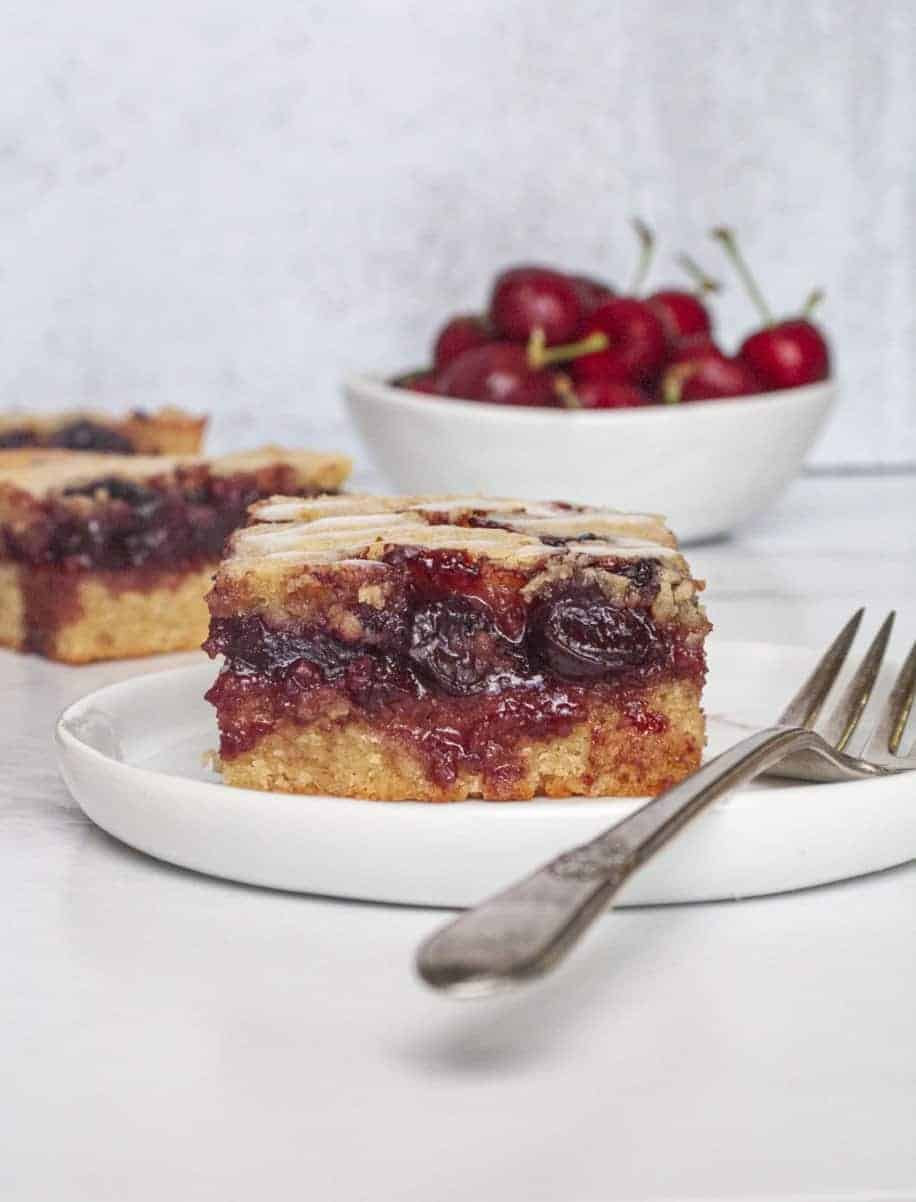 These bars have a few layers but they're simple and straightforward.  We will start by making the crust that doubles as a topping.  The key ingredient here is the cold grass fed butter or ghee.  I like to take it straight from the refrigerator as I'm mixing my other ingredients.  Cutting the butter into small cubes (like 1/2 inch cubes) makes it blend more easily.  You can use a pastry cutter or fork for this, but I always use my KitchenAid.  Once the crust is mixed together and the dough is uniform, spread about 2/3 of it into a parchment lined baking sheet.  This will bake for about 12-13 minutes, until the edges are slightly golden and the middle is set.  Meanwhile, it's time to make the cherry filling.  If you're using frozen cherries, you might have to increase the amount of tapioca flour by a tablespoon or two.  If you're using fresh cherries, you'll want to increase the lemon juice just a bit.  Frozen cherries maintain a ton of moisture whereas fresh cherries are more dry.  The cherry filling cooks on a stovetop; cook only until the filling has thickened.  Mine only took about 3 minutes over low medium heat.  Once the bottom crust is done, pour the cherry filling over the crust and sprinkle the remaining crust dough on top.  This all bakes for about 32-33 minutes, until the cherry filling is bubbly and the crust is a light golden brown.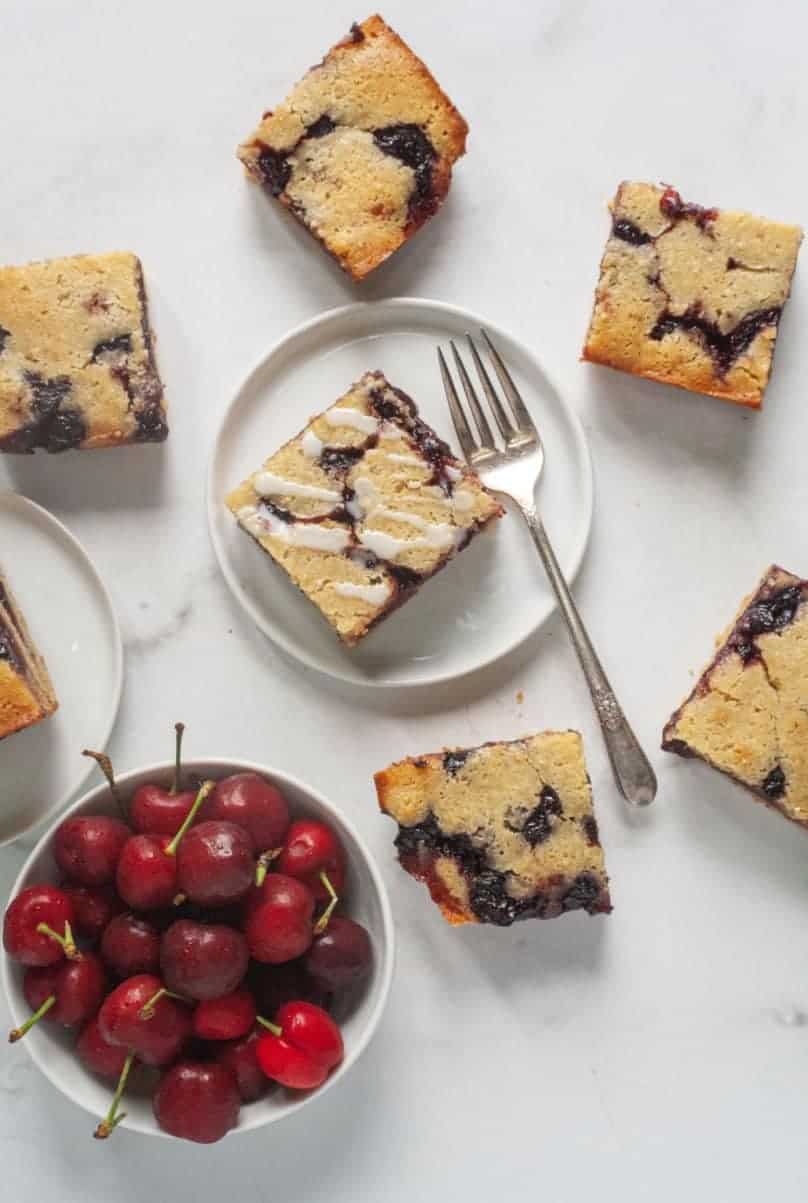 These bars have some of my favorite textures and flavors.  The shortbread crust is the perfect complement to the juicy gooey cherry filling.  These bars are delicious both chilled from the fridge or warmed up with a scoop of coconut milk ice cream.  I have also melted some dark chocolate to use as a drizzle on top – amazing!  These cherry bars will have you loving cherries even more than you thought possible!
Prep Time: 10 minutes
Cook Time: 50 minutes
Total Time: 60 minutes
Course: Dessert, Snack
Servings: 9 bars
Ingredients:
CRUST:
1.5 cups almond flour
3/4 cup tapioca flour
4 TBL coconut sugar
1/2 cup grass fed butter or ghee, cold
2 eggs, room temperature
2 TBL almond milk
1 tsp vanilla
CHERRY FILLING:
2 cups cherries
2 TBL coconut sugar
2 tsp lemon juice
1 TBL tapioca flour
1/2 tsp vanilla
Directions:
Preheat oven to 350 degrees Fahrenheit and line an 8×8 baking pan with parchment paper.
Make the crust first.  Mix together flours and eggs.  Chop butter or ghee into small pieces and mix to combine.  Add remaining ingredients and mix with KitchenAid, pastry cutter or fork until dough is uniformly mixed.
If dough is too sticky, refrigerate for about 20-30 minutes.
Spread 2/3 of the dough into the bottom of the baking dish.  Bake for 13-14 minutes, until just golden on the top.
Meanwhile, make cherry filling.  Add all ingredients to a saucepan over low/medium heat.  Stir continuously until thickened, about 3-4 minutes.
Once bottom crust is done, pour cherry filling on top.  Sprinkle the remaining crust dough on top into an even layer.
Bake for 32-33 minutes, until top is golden and cherry filling is bubbling.
Allow to cool completely before slicing into.  I highly recommend refrigerating these bars for a couple hours before cutting into.