WHOLE30 TACO STUFFED SPAGHETTI SQUASH
(WHOLE30, GLUTEN FREE, GRAIN FREE, DAIRY FREE, PALEO)
It's no secret that spaghetti squash is my favorite fall and winter dinner.  I love how versatile it is and how many different things I can make with it!  For this taco inspired version, I added some taco meat to the spaghetti squash and garnished it with a squeeze of lime, avocado and salsa.  It tastes like a mix between a taco and spaghetti.  Who wouldn't love that?  Don't be afraid to make a spaghetti squash, it's really easier than you think!  You can check out more of my spaghetti squash recipes HERE.  I was too scared of making spaghetti squash until a couple years ago – and now I'm making up for lost time!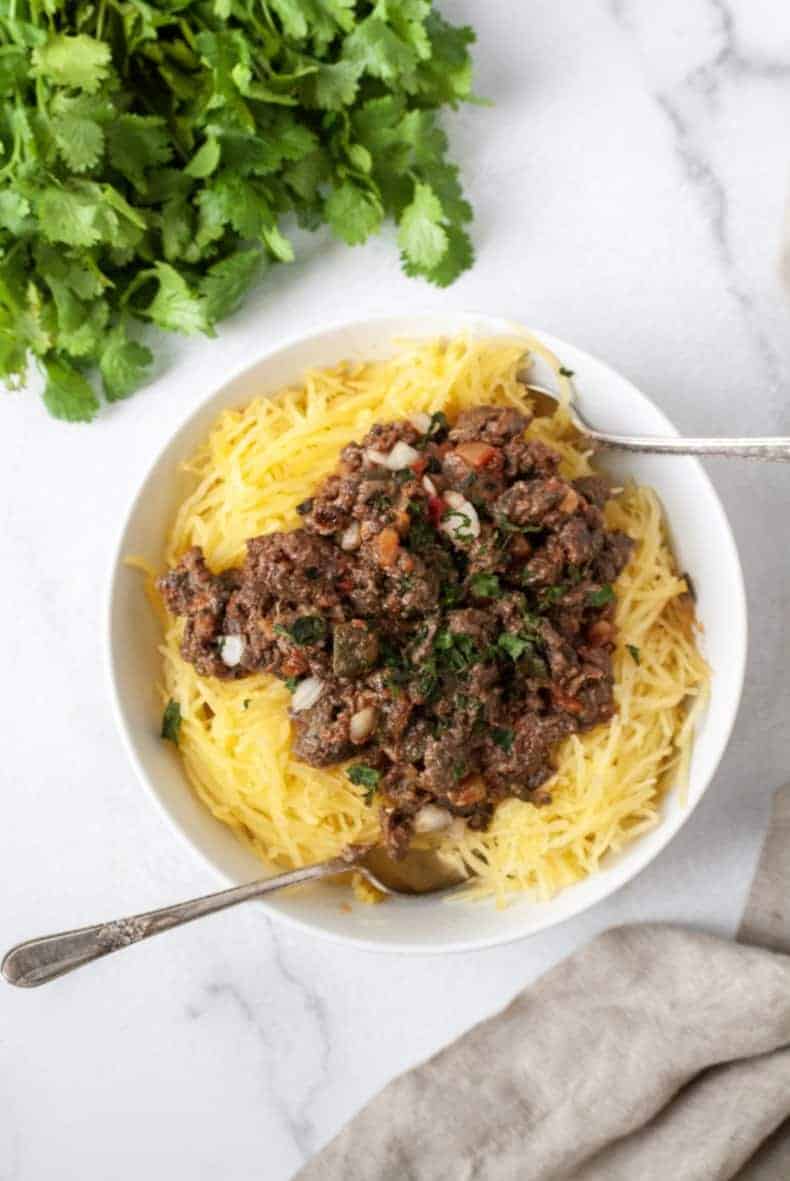 HOW TO COOK SPAGHETTI SQUASH
First, preheat your oven to 400 degrees Fahrenheit.  Using a sharp knife, cut your spaghetti squash lengthwise.  Be very careful!  If your knife isn't sharp enough or you're having trouble cutting it, place the spaghetti squash on a plate and microwave it for 2-3 minutes.  This will soften the squash, making it easier to cut through.  Once it's cut, use a spoon to scoop out all the seeds inside.  Next, discard the seeds and coat the insides of the squash with melted coconut oil.  Place face down on the baking sheet and bake for 35-40 minutes.  The squash is done once the insides are soft and tender.  Using two forks, shred the insides of the squash.  This creates spaghetti-like strands.  Place the strands in a large bowl and discard the spaghetti squash shells.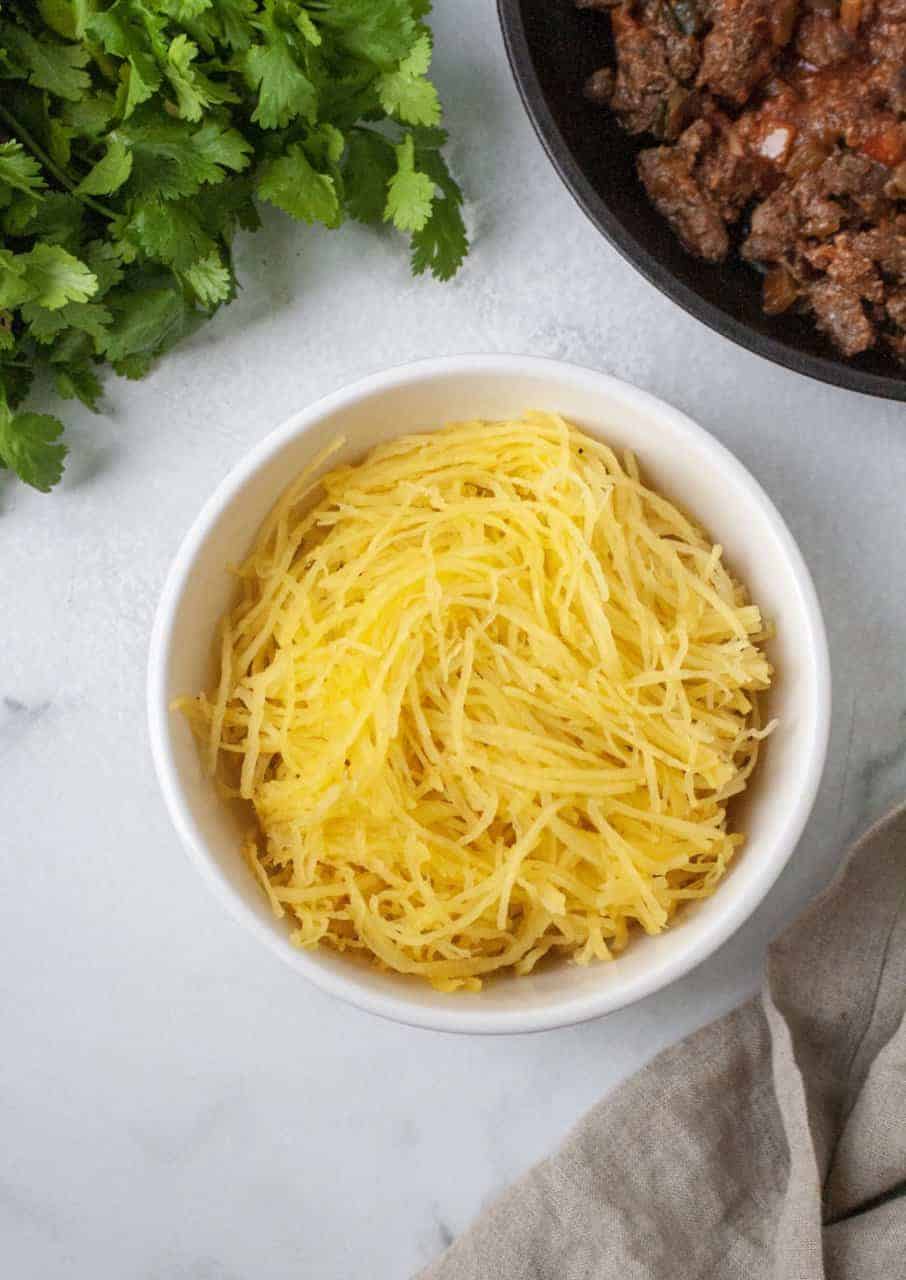 While the spaghetti squash is cooking, add the ground burger, red pepper, onion, and spices to a large skillet over medium. Cook for 5-6 minutes, breaking up the meat until beef is cooked through and veggies have softened.  Once beef is cooked, add salsa to the skillet and stir to combine.  Remove from heat.  Add the squash to bowls; top the spaghetti with the taco mixture.  Finally, garnish each bowl with basil and salsa if desired.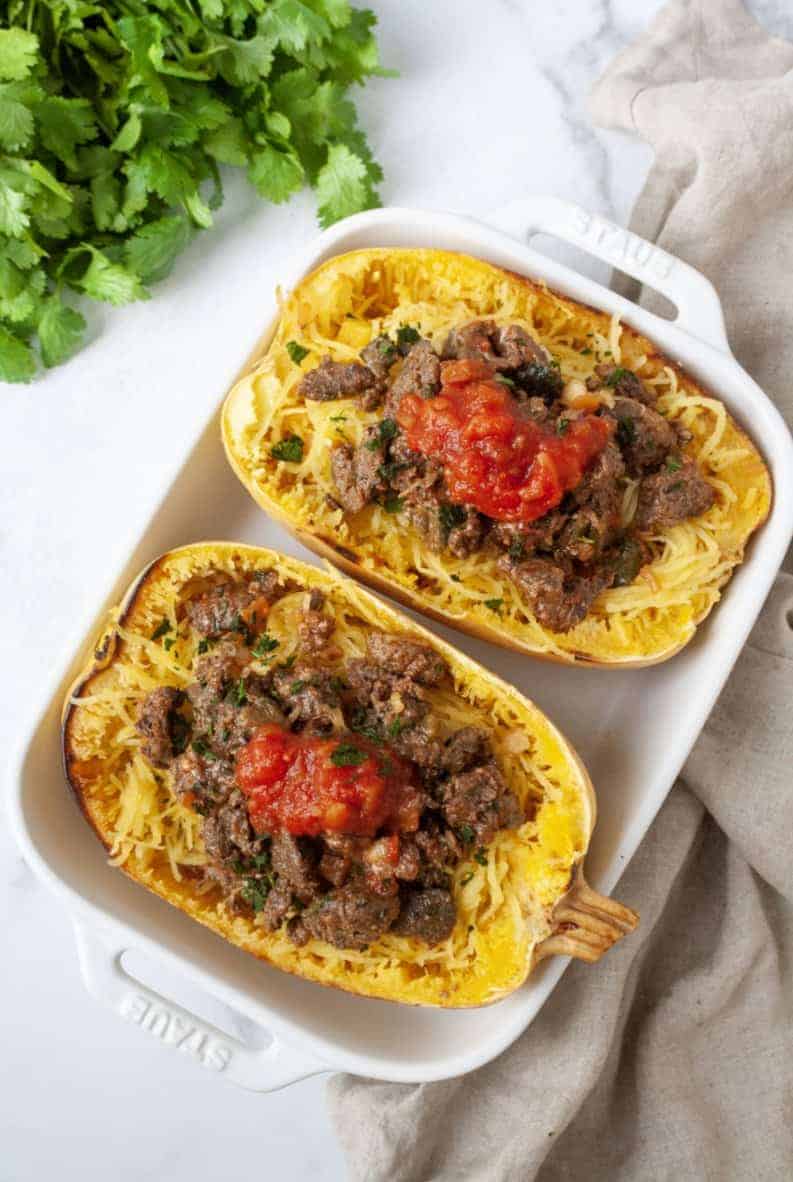 This taco stuffed spaghetti squash combines two of my favorite foods!  It's an unexpected but flavorful combo.  I love the versatility of both taco meat and spaghetti squash.  This is great for any occasion: quick enough for a weeknight but also hearty and tasty enough for a weekend.  It's healthy comfort food!  To store leftovers, add squash and taco meat to an airtight container and refrigerate.  It will stay fresh for about 3 days.  Simply reheat as needed.
Prep Time: 10 minutes
Cook Time: 40 minutes
Total Time: 50 minutes
Course: Lunch, Dinner
Servings: 4
Ingredients:
1 large spaghetti squash
1 TBL coconut oil, melted
1 lb ground beef (I used Teton Waters Ranch Southwest Burgers)
1/2 red pepper, chopped
1/2 white onion, chopped
1 TBL cumin
1/2 tsp garlic powder
1 tsp paprika
1/2 tsp onion powder
1/2 tsp ground pepper
3/4 cup salsa
Cilantro, to garnish
Directions:
Preheat oven to 400 degrees Fahrenheit and line a baking sheet with parchment paper.  Carefully cut spaghetti squash down the middle vertically.  Scoop out seeds using a large spoon.  Discard seeds.
Once seeds have been discarded, coat the insides of the squash with melted coconut oil and lay face down on the parchment paper.  Bake for 30-40 minutes or until insides are soft and able to be shredded apart using two forks.
Once finished cooking, remove from oven.  Shred the insides of the squash using two forks.  Once shredded, place spaghetti strands into a large bowl.  Discard shells of squash.
Meanwhile, add ground beef, red pepper, onion and spices to a skillet over medium heat.  Cook until crumbly and brown, about 5-6 minutes.  Break apart meat if necessary.
Once meat is fully cooked through, add salsa to the skillet.  Stir to combine.
To assemble: top spaghetti squash with taco meat mixture.  Garnish with cilantro and additional salsa if desired.