WHOLE30 CHICKEN FAJITAS
(WHOLE30, GLUTEN FREE, GRAIN FREE, DAIRY FREE, PALEO)
Mexican food has always been one of my favorites.  I really enjoy spicy and bold flavors – and these chicken fajitas deliver!  These Whole30 approved chicken fajitas are simple and easy enough for a busy weeknight but they're packed with enough flavor for any occasion.  They're a great party food since they're versatile and just so tasty.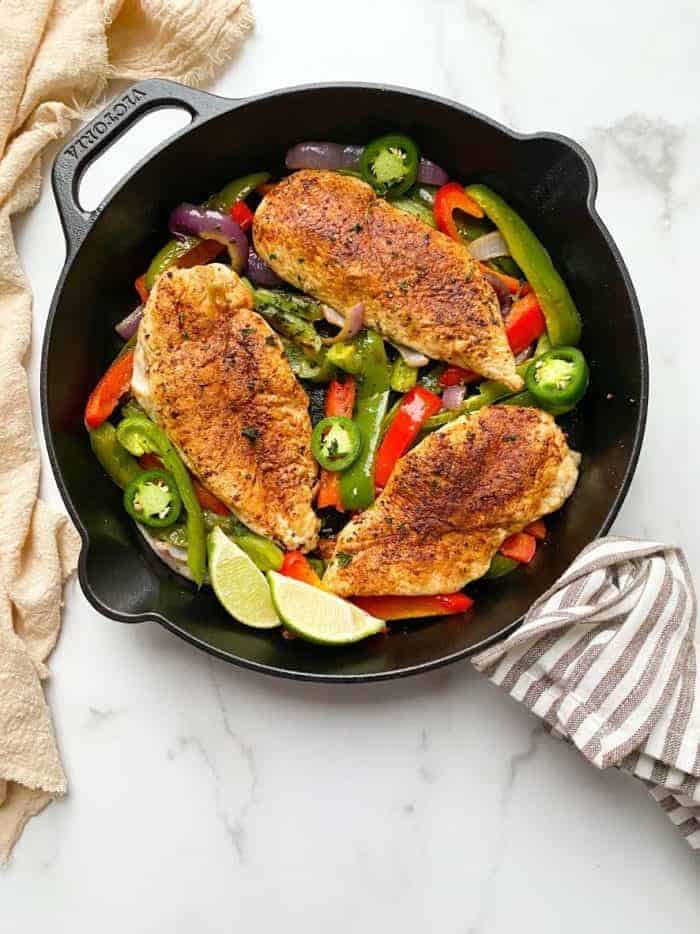 To begin, I like to let my cooking fat heat up in a cast iron skillet.  That way, when I add the meat, it really gets a nice crispy sear.  In this case, I used ghee but grass fed butter or olive oil would be great as well.  Using a meat pounder to pound out your chicken will ensure that your chicken is of equal thickness; this really helps in the cooking process.  You don't want one piece overdone and one piece undercooked.  Before adding the dry spice rub, pat your chicken dry with paper towels.  This really helps the chicken to get that sear when it hits the pan.  This combination of spices provides just enough heat without going overboard.  Feel free to adjust the seasonings to your preference.  Once the chicken has cooked for a few minutes on each side, transfer to a baking sheet with the veggies.  This all bakes up together which really allows the flavors to marinate.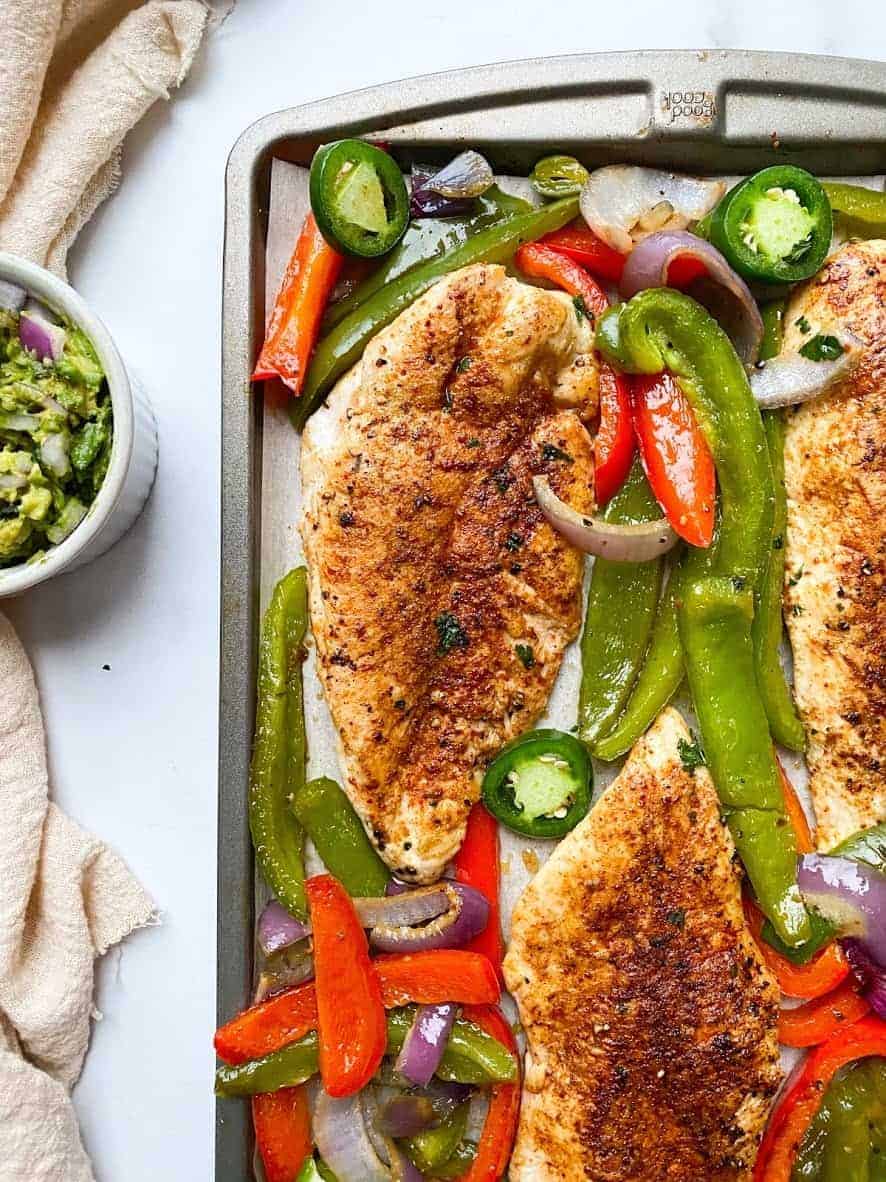 These chicken fajitas are great as is, but they are also delicious inside tacos, burritos, quesadillas, or on top of a salad.  My favorite way to eat them is atop lettuce wraps.  No matter which way you enjoy these, they are sure to be a big hit!
Prep Time: 10 minutes
Cook Time: 25 minutes
Total Time: 35 minutes
Course: Lunch, Dinner
Servings: 4-6
Ingredients:
2 pounds chicken breast
1 TBL ghee or olive oil
1/4 tsp ground pepper
1/4 tsp sea salt
1 tsp cumin
1/2 tsp chili powder
1 tsp paprika
1/2 tsp garlic powder
1/2 tsp onion powder
1 TBL olive oil
1 large onion, chopped
1 large red pepper, chopped
1 large green pepper, chopped
Jalapeños, for ganish
Lime, for garnish
Directions:
In your cast iron skillet, add ghee or olive oil over medium heat.
Preheat oven to 400 degrees.
Pat chicken dry with paper towels.  I like to pound out my chicken so that it has an even thickness throughout.
Combine pepper, sea salt, cumin, chipotle chili powder, garlic powder and onion powder in a small bowl.  Rub this mixture on both sides of the chicken.
Add chicken to pan and sear for 2-3 minutes on each side.  Remove chicken from pan.
Meanwhile, toss chopped veggies with olive oil.  Spread veggies out on a parchment lined baking sheet.
Place browned chicken alongside veggies and bake for 15-20 minutes (depending on thickness of chicken) until no longer pink.
Garnish with jalapeños and lime juice if desired.
Enjoy!