PALEO VEGAN BERRY CRUMBLE
(VEGAN, GRAIN FREE, GLUTEN FREE, DAIRY FREE, PALEO)
I'm usually a chocolate dessert person but I make an exception when fresh berries and a crumble topping are involved.  This Paleo Vegan Berry Crumble combines sweet berries and one crunchy crispy crumble on top.  The textures and flavors complement each other perfectly.  There is just the right amount of sweetness added so that it's not overwhelming and not overly sweet.  Since there are 3 total cups of berries, it already has a natural sweetness to it!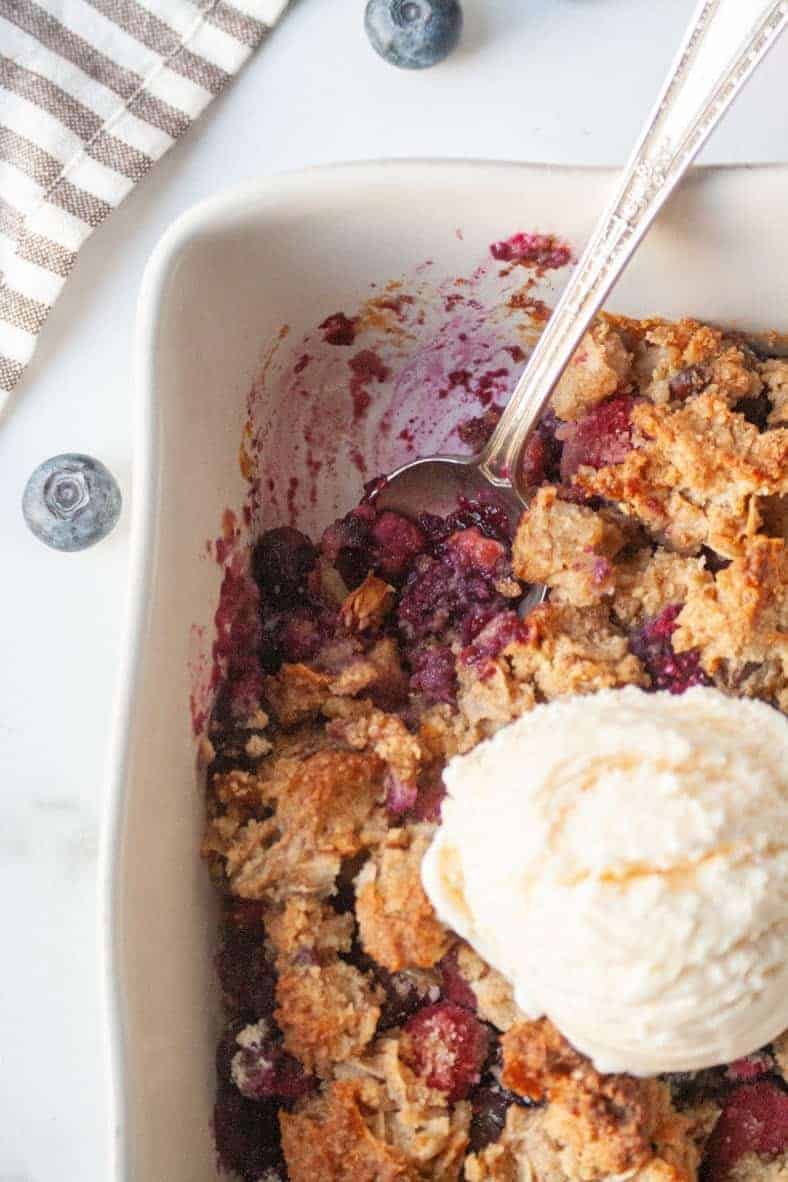 To make this crumble, we first start off with making the crumble topping.  This involves just simply mixing the ingredients together and storing it in the fridge while you make the base layer.  The topping has a mixture of almond and coconut flour to ensure the perfect texture.  It also includes coconut flakes for some added flavor.  I used granola in my topping for extra crunch, but feel free to use mixed nuts here.  Almonds, pecans and cashews would be great since they're on the crunchy side.  Lastly, I used a little bit of almond butter to help bind everything together and to add some hearty flavor.  Once the topping is done, it's time to move on to the berry filling!  I used a mix of blueberries and raspberries but strawberries and blackberries would also fill in well.  A squeeze of lemon juice adds a nice pop of tartness and helps to keep the berries from browning during baking.  Once the berry filling is all tossed together (make sure the coconut flour has coated the berries!), it's time to assemble.  Add the filling to the pan and sprinkle the crumble in clumps on top.  Keep an eye on it while baking to make sure the topping isn't getting too brown.  It'll be done when the topping is golden brown and the berries are bubbling underneath.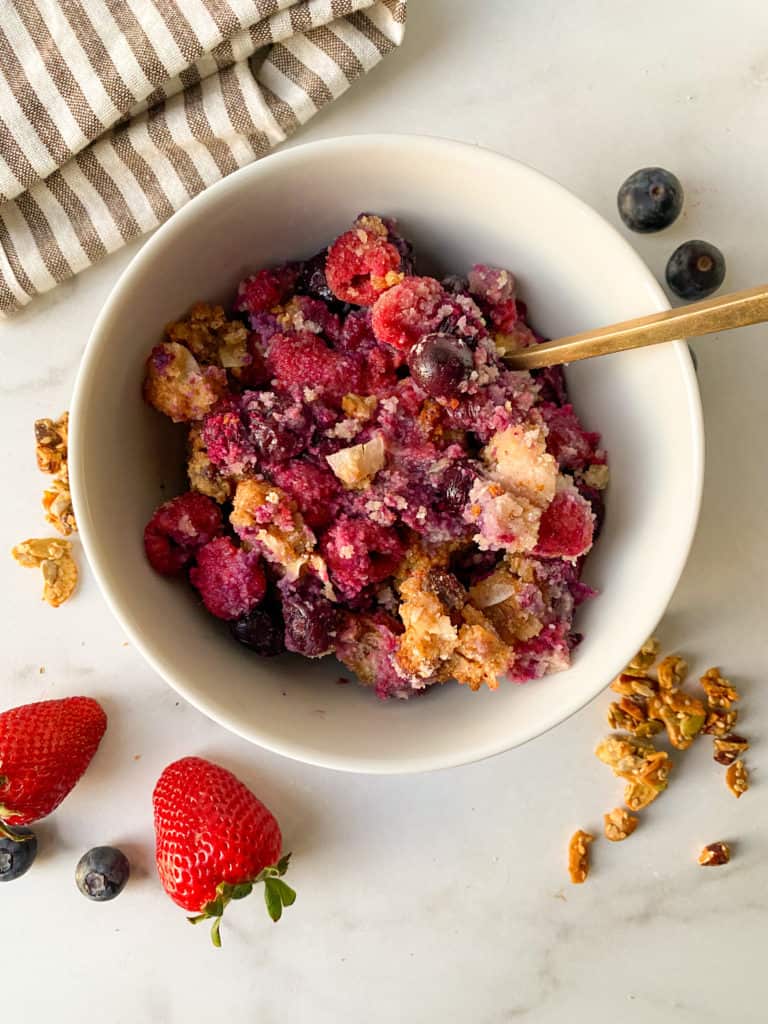 This is one of my favorite things to make for a backyard BBQ, get together or any old night.  It's light and fresh and filled with the best flavors.  I enjoy mine warmed up with a scoop of coconut milk ice cream!  This screams springtime and summer and would be the perfect accompaniment to your entertaining needs!  It's healthy, easy, and always a big hit.
Prep Time: 10 minutes
Cook Time: 30 minutes
Total Time: 40 minutes
Course: Dessert, Snack
Servings: 8 servings
Ingredients:
Bottom Layer:
1.5 cups blueberries
1.5 cups raspberries
1 TBL lemon juice
1/4 cup maple syrup
1 tsp vanilla
3 TBL coconut flour
Crumble Topping:
3/4 cup almond flour
2 TBL coconut flour
Pinch Sea salt
1 tsp cinnamon
1/2 cup granola or mixed nuts (I used GrandyOats Coconola)
2 TBL chopped pecans
3 TBL coconut flakes
2 TBL almond butter
1 TBL coconut sugar
Directions:
Preheat oven to 350 degrees.  Spray a 10×7 (or 8×8) pan with coconut oil nonstick spray.  Set aside.
In a mixing bowl, make the topping.  Mix all ingredients together until crumbly.  Place in fridge while you make the bottom layer.
In a mixing bowl, add the ingredients for the bottom layer.  Toss to ensure berries are coated in coconut flour.
Add berry mixture to greased pan.  Spread crumble on top of berries.
Bake for 20 minutes.  Remove pan and cover with tin foil.  Bake for 10-12 more minutes or until berries are bubbling around the edges.
Serve immediately or allow to cool.  Store leftovers in the fridge for up to 5 days.