PALEO BANANA CREAM PIE JARS
(GRAIN FREE, GLUTEN FREE, DAIRY FREE, PALEO)
Bananas are probably my favorite fruit.  I eat 2 every single day (one in a smoothie and one normally).  Other than using them in banana bread and in my flourless muffins, I don't bake with them too often.  I love how much flavor and texture they provide which led me to these banana cream pie jars!  These jars are just as cute as they are delicious!  I love all the different layers, flavors and textures.  They're super simple to make, don't require an oven, and they are so fun!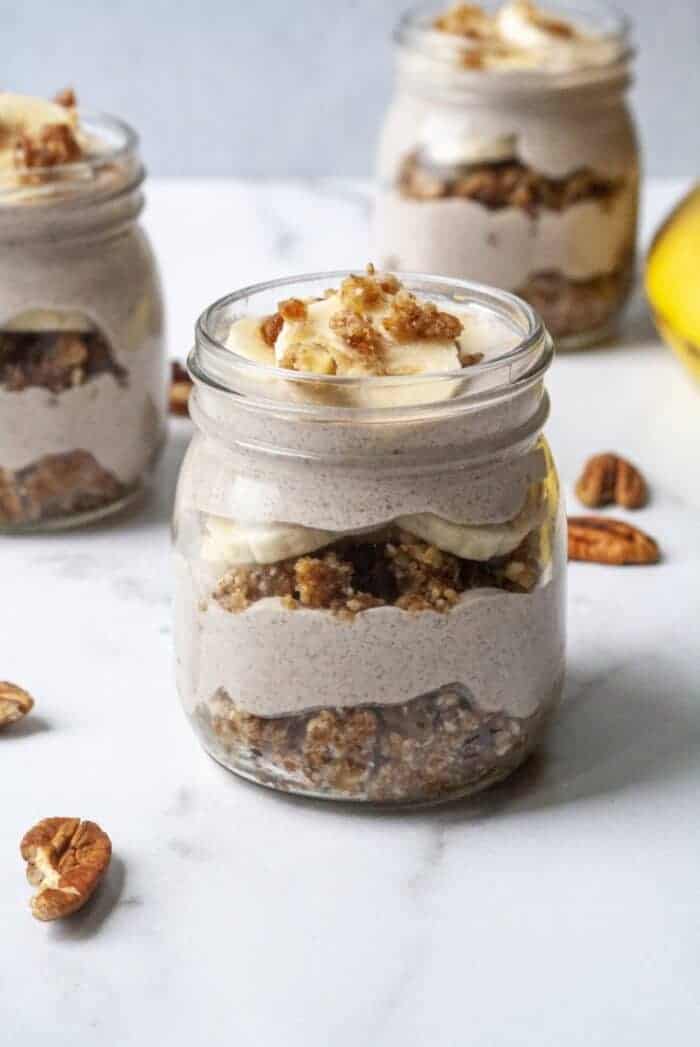 The first step is making the banana cream layer.  This is done by combining full fat coconut cream with gelatin.  I used unflavored beef gelatin so that there wasn't a weird flavor being added.  The purpose of gelatin is to allow the mixture to really firm up.  In this case, we want the banana cream to resemble the consistency of pudding.  The gelatin really helps with this.  If you don't have gelatin at home, you can still make this.  The banana cream "pudding" will be more runny but the flavor will be the exact same.  Allow this mixture to sit for about 10 minutes.  This allows the gelatin to really combine with the coconut cream.  After 10 minutes, add the banana cream ingredients to a blender and blend until smooth.  It's very important to refrigerate this mixture for at least an hour to firm up.  After an hour, begin making the crust layer.  Simply add the ingredients to a clean blender and blend until crumbly.  The mixture will be crumbly but it'll stick together when you press it into the jar.  To assemble, layer the crust layer, banana cream layer, sliced bananas, and repeat.  These are delicious with some chopped pecans on top too!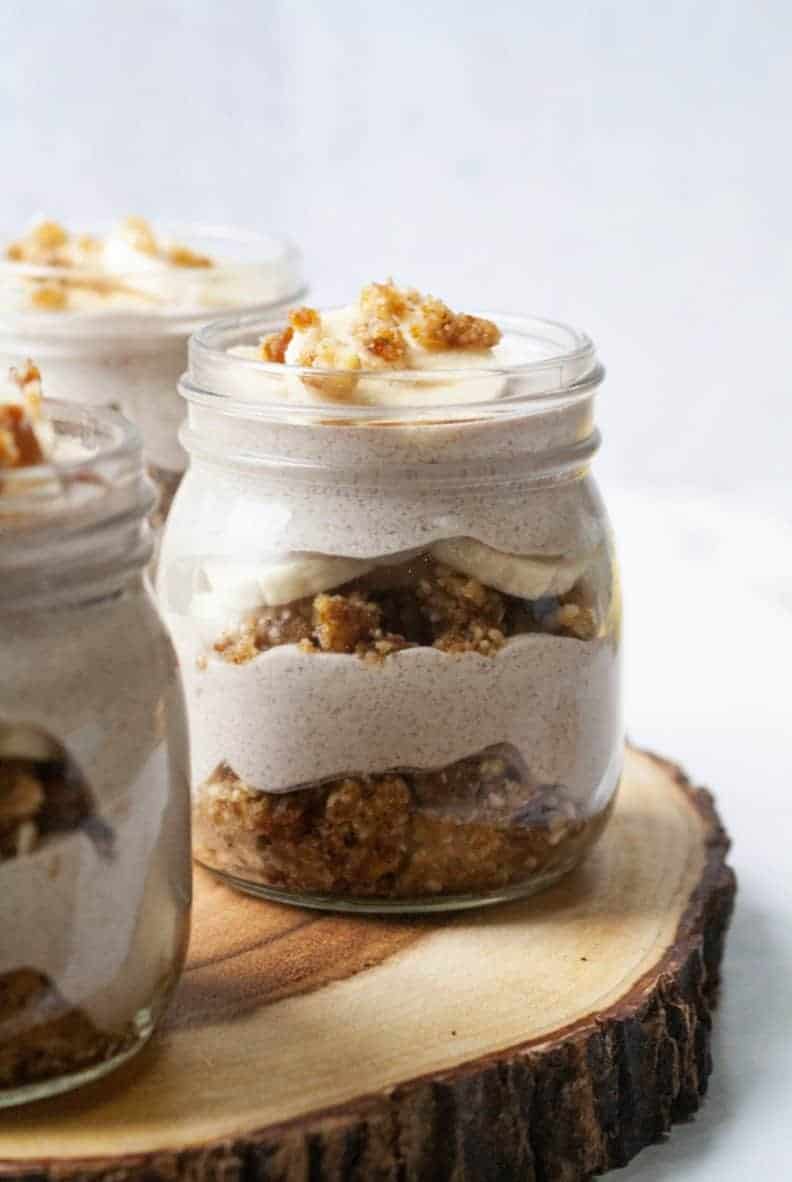 I'm not sure why but these jars make the dessert so much more fun!  I love that they're single serve, easy to take on the go, and they look fancy and complicated!  These are definitely a showstopper but they're pretty easy to make.  If you're looking for a fun and easy dessert, look no further!  These are refreshing, healthy and filled with the best flavors.
Prep Time: 20 minutes
Cook Time: 0 minutes
Total Time: 1 hour, 20 minutes
Course: Dessert, Snack
Servings: 4
Ingredients:
Crust Layers:
1 cup nuts (I used pecans and walnuts)
3/4 cup pitted dates
1/4 cup coconut flakes
1 TBL coconut oil
1 TBL maple syrup
Pinch cinnamon
1 tsp vanilla
Pinch sea salt
Banana Cream Layers:
1.5 cups full fat coconut cream
1 cup mashed bananas
1 TBL gelatin, unflavored
1 TBL maple syrup
1 tsp vanilla
Other:
1 large banana, sliced
Pecans, optional
Directions:
In a large mixing bowl, add coconut cream and gelatin.  Stir to combine.  Allow to sit on counter for 10 minutes.
After 10 minutes, combine the coconut cream and gelatin with the mashed bananas, maple syrup and vanilla in a blender.  Blend until smooth.
Place this banana cream in the fridge for at least an hour to harden.
Once banana cream has been refrigerated, make the crust layers.  Add all crust layers to a clean blender and pulse until combined.
To assemble: add a scoop of the crust layer to a mini jar, top with banana cream, then top with sliced banana and repeat.  Repeat for remaining jars.
Garnish with additional pecans if desired.
Must store these in the fridge.