HOW TO ROAST BUTTERNUT SQUASH
(WHOLE30, GLUTEN FREE, GRAIN FREE, DAIRY FREE, PALEO, VEGAN)
Butternut squash is one of my favorite foods in the fall and winter months!  It has a slightly sweet taste, especially after roasting.  If you've never made butternut squash before, don't be intimidated!  It's a straightforward and easy process – and you'll get the most delicious result!

WHAT IS BUTTERNUT SQUASH?
Butternut squash is a winter squash that grows on a vine.  It has a similar taste and texture to pumpkin.  The skin and flesh are a yellow orange color and there are seeds inside.  Butternut squash can be roasted, stuffed, sautéed, puréed or mashed.  It is extremely versatile and works well in both sweet and savory recipes.

HOW TO ROAST BUTTERNUT SQUASH
First, carefully slice butternut squash lengthwise with a large sharp knife.  Use a spoon to scoop out seeds.  Discard seeds.  Then, coat the insides of the squash with cooking fat (melted coconut oil or olive oil work well).  Place face down on a parchment lined baking sheet.  Bake at 400 degrees Fahrenheit for about 35 to 40 minutes.  Cooking time is dictated by the size of the squash.  Add time for a larger squash.  Squash is done cooking when the insides are fork tender.  Carefully remove from oven.  At this point, butternut squash is roasted.  Use however you desire!

HOW TO EAT BUTTERNUT SQUASH
Like I mentioned previously, butternut squash is incredibly versatile.  This Butternut Squash Mac and Cheese uses butternut squash as a dairy free alternative to a cheese sauce.  My favorite way to eat butternut squash is this Sausage and Apple Stuffed Butternut Squash.  It's both sweet and savory and combines all my favorite fall flavors.  Lastly, this Butternut Squash Soup is smooth and creamy – perfect for a quick and easy lunch, side dish or dinner.  All of these recipes are delicious!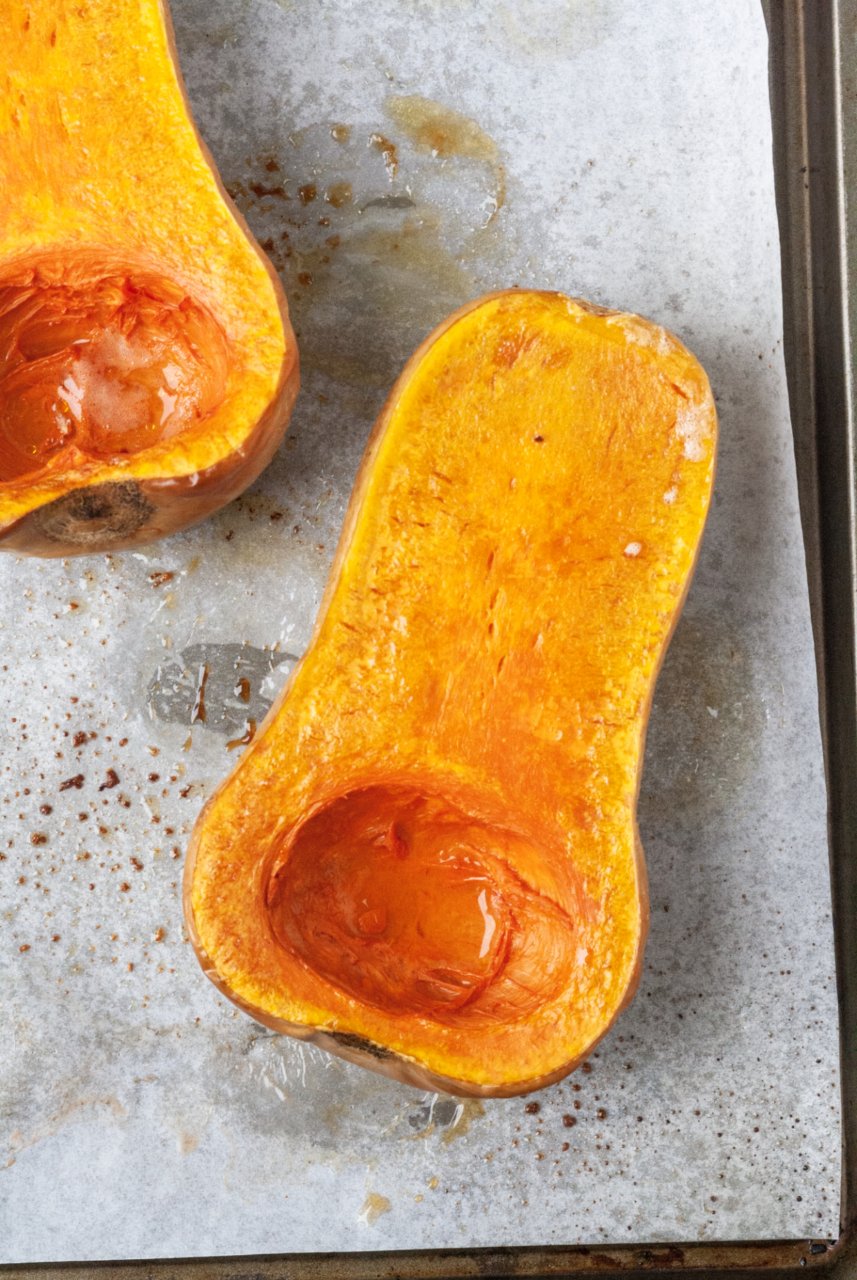 Prep Time: 5 minutes
Cook Time: 40 minutes
Total Time: 45 minutes
Course: Lunch, Dinner
Servings: 4
Ingredients:
2 large butternut squash
1 TBL coconut oil, melted
Directions:
Preheat oven to 400 degrees Fahrenheit and line a baking sheet with parchment paper.
Next, cut butternut squash in half lengthwise and scoop out seeds.  Then, brush insides with melted coconut oil or olive oil and bake face down for about 35 to 40 minutes.
When butternut squash is done, carefully remove from oven.  Butternut squash is done!