WHOLE30 TERIYAKI CHICKEN BURGERS
(WHOLE30,GRAIN FREE, GLUTEN FREE, DAIRY FREE, PALEO, KETO FRIENDLY)
Teriyaki chicken and grilled burgers have been two of my favorite meals for as long as I can remember so it was only a matter of time before those merged into one!  That's where these teriyaki chicken burgers come in.  These are a fun and exciting twist on a classic burger.  They are the best of sweet and savory; the hearty chicken is grilled to smoky perfection and is topped with sweet grilled pineapple.  The flavor combination will have you wanting seconds!  These chicken burgers are super easy, fun, flavorful and a delicious meal!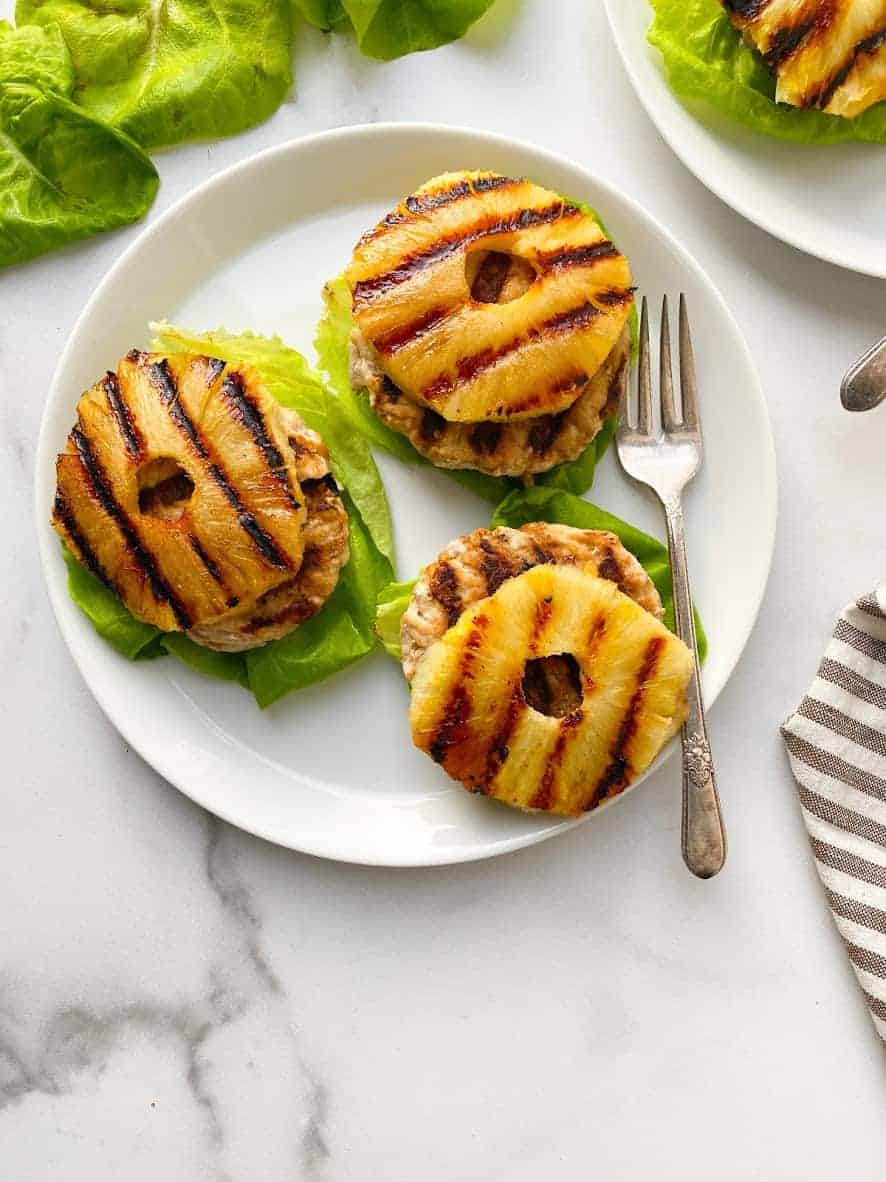 Let's get started!  Since ground chicken typically is pretty lean, I like to brush my grill or indoor grill with some coconut oil to prevent sticking.  To make the burgers, simply combine the ground chicken with the coconut aminos and seasonings.  Be careful not to overwork the meat.  Once it's combined, form the burger patties and you're ready for the grill.  If the patties are too sticky, wet your hands when working with the meat.  Grill for about 4 minutes on each side until they are cooked through.  There should be no pink in the center.  While the burgers are grilling, I like to grill the pineapple alongside it.  If you don't have room for the pineapple, you can always grill it after the burgers.  It only takes a few minutes on each side to get those grill marks!  I like to serve mine in butter lettuce and topped with pineapple and red onion.  These would also be great with avocado or guacamole on top!  I know ground chicken isn't usually exciting but I promise these will rock your ground chicken world!
Prep Time: 5 minutes
Cook Time: 20-25 minutes
Total Time: 25-30 minutes
Course: Lunch, Dinner
Servings: 8 servings
Ingredients:
2 pounds ground chicken
1 TBL Big Tree Farms Teriyaki Coconut Aminos
1/2 tsp garlic powder
1/2 tsp onion powder
Coconut oil for grill
8 slices pineapple
Butter lettuce
1 red 0nion, sliced
Directions:
Preheat grill or indoor grill to 400 degrees and brush with a little coconut oil to prevent sticking.
In a large mixing bowl, combine ground chicken, coconut aminos, garlic powder and onion powder.  Mix until just combined.
Using your hands, form 8 burger patties.
Grill burgers for about 4 minutes each side, until no longer pink in the middle.
Grill each slice of pineapple about 2-3 minutes each side (if desired).
To assemble, place burger on top of butter lettuce and top with grilled pineapple and red onion.
Serve!