WHOLE30 BERRY SALAD WITH RASPBERRY VINAIGRETTE
(WHOLE30,GRAIN FREE, GLUTEN FREE, DAIRY FREE, PALEO, VEGAN)
Is there anything more refreshing than a berry salad?  This Whole30 Berry Salad with a homemade raspberry vinaigrette screams springtime and summer.  It has fresh and light flavors which make for the perfect salad.  I am a salad lover if and ONLY if there are plenty of toppings, a variety of textures and bold flavors.  No boring salads over here!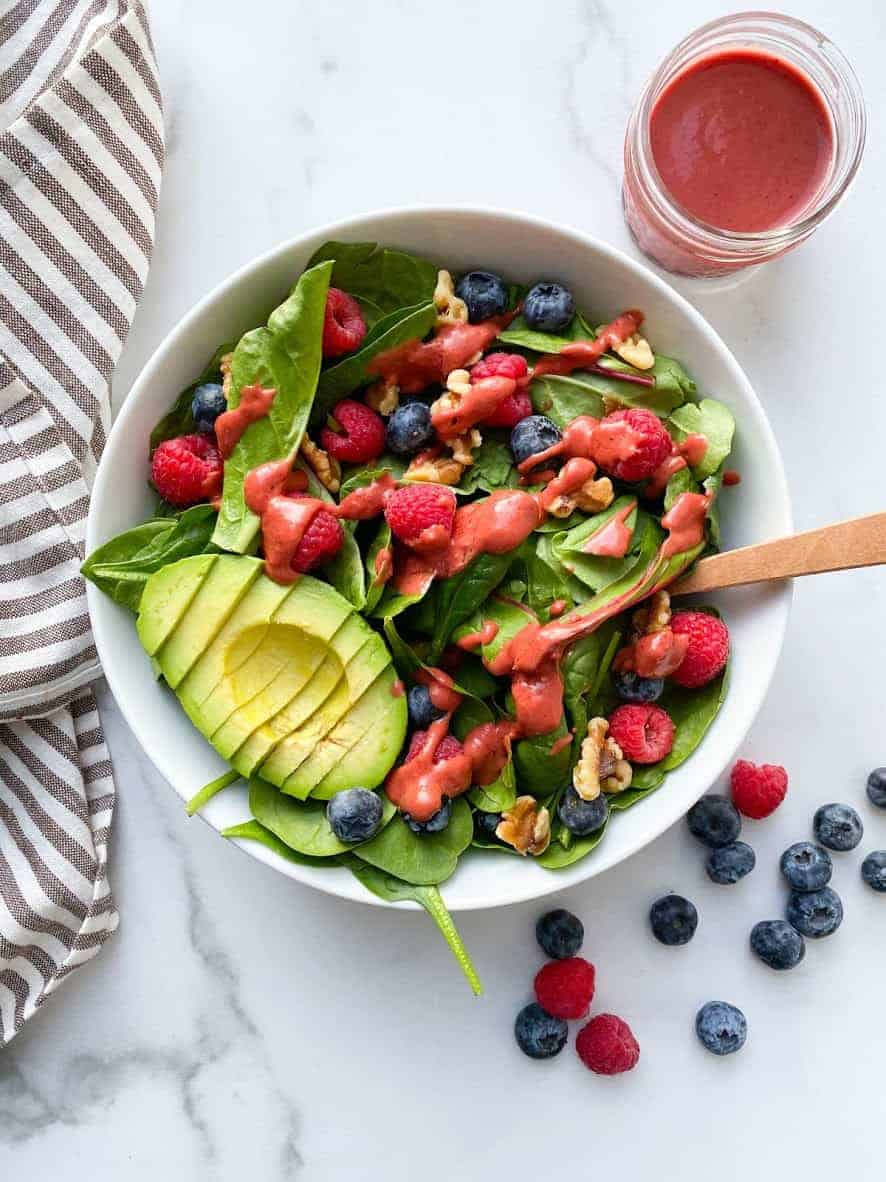 To make this salad, first start with your favorite greens.  I prefer spinach but kale, lettuce, arugula or mixed greens would be fine too.  The avocado (my favorite salad topping ever) provides some healthy added fats, extra creaminess and a ton of flavor.  The berries add a nice pop of color and sweetness.  This would also be great with strawberries or blackberries too.  For the crunch factor, walnuts are used.  Pecans would also be a fun topping here as well.  The homemade vinaigrette adds a smooth and cream final garnish to this salad.  Don't be intimidated by the thought of making your own salad dressing; it really couldn't be easier!  Simply add the ingredients to a blender and blend until smooth.  (Note: this is my favorite blender and it only takes about 30 seconds to blend.)  If you don't own a blender, add these ingredients to a small skillet and let simmer until mostly smooth.  Of course, you'll want to let this dressing cool down before adding it to your salad.  You can definitely make this dressing ahead of time and store it in the fridge until you're ready to eat.  I highly suggest keeping the dressing off the salad until it's time to serve.  This will prevent the salad from getting too soggy.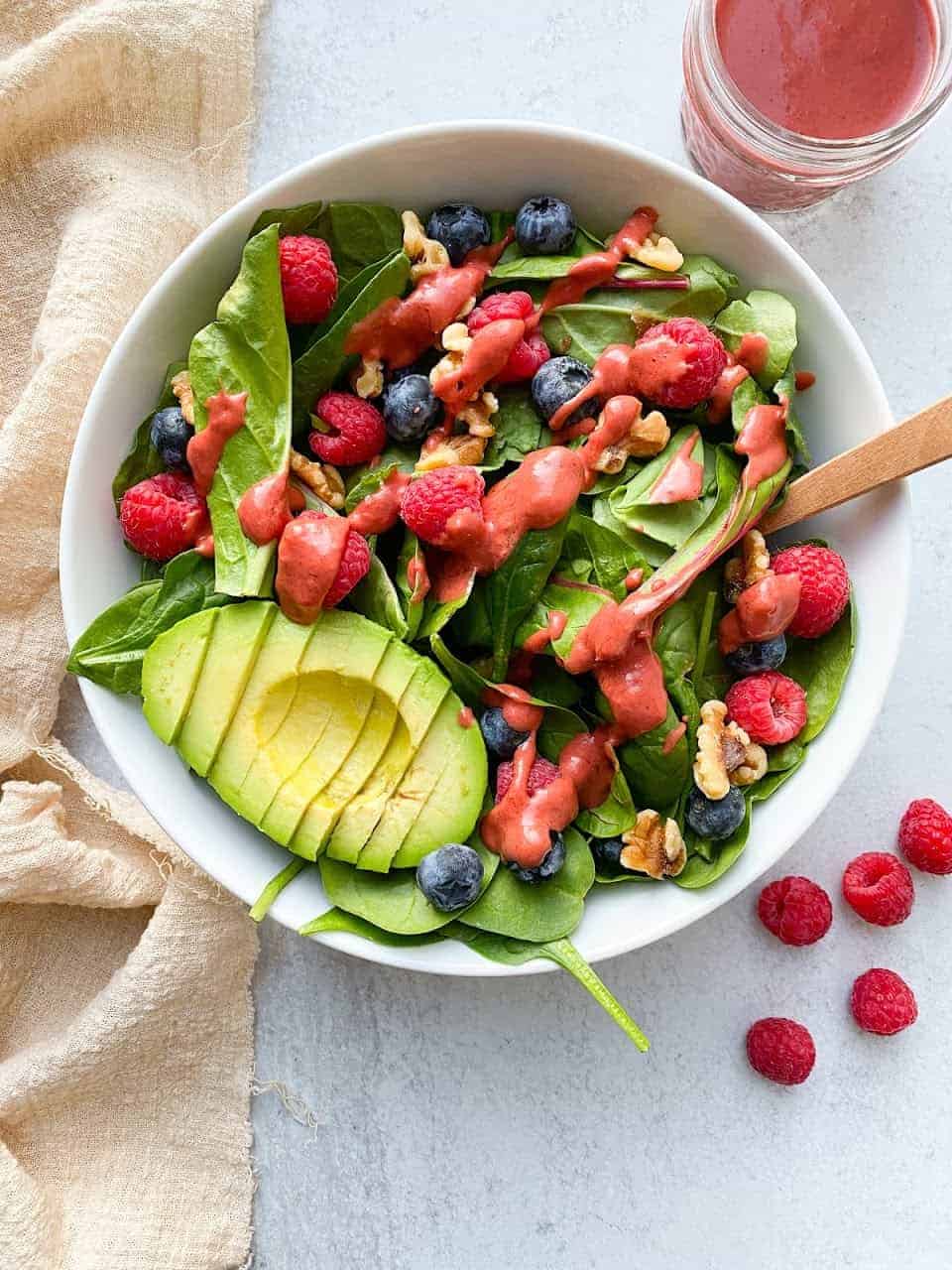 If you're looking for a light and fresh option, I've got you covered.  This salad is equally healthy and delicious.  There are sweet and savory flavors, creamy and crunchy textures, and plenty of healthy foods going on here.  This salad makes a great appetizer, easy side dish, or pair it with your favorite protein for a larger meal.  I'd totally add grilled chicken or steak and call this a win!
Prep Time: 5 minutes
Cook Time: 0 minutes
Total Time: 5 minutes
Course: Lunch, Dinner
Servings: 4 servings
Ingredients:
Salad:
1 large package spinach or mixed greens (about 7-8 cups)
1 avocado, sliced
1/2 cup blueberries
1/2 cup raspberries
1/2 cup walnuts
Vinaigrette:
1 cup raspberries
1/3 cup olive oil
2 TBL balsamic vinegar
1 date (or 1 TBL date syrup)
Pinch sea salt
Pinch ground pepper
Directions:
First make the salad.  Place spinach or mixed greens in large salad bowl.  Top with sliced avocado.
Rinse berries and pat dry with a paper towel.  Add berries to salad bowl.  Top with walnuts.
To make the vinaigrette, simply add all ingredients to a blender.  Blend until completely smooth (about 30 seconds in a good blender).
When ready to serve, pour desired amount of dressing over salad.
Enjoy!